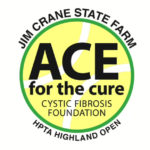 $20,976 Raised To Help Fight Cystic Fibrosis
Thank you!
2017 HOTT Tournament Committee
(l-r) Rusty Jabour, Sue Finch, Gary Mollere, Sandra Harshbarger, HPTA President Debbie Klotzbach, HPTA Secretary Mrinal Desai, HPTA Treasurer Wendy Parrish, HPTA Vice President Galen Vicknair, Tournament Desk Coordinator Joycelyn LeBlanc, Tournament Director Lisa Sanner, and Michael Doyle.
The Highland Park Tennis Association and its Highland Open Tournament Team are proud to announce that $20,976 was raised for the Cystic Fibrosis Foundation through the 2017 Jim Crane State Farm Highland Open and its related fundraising efforts.
The tournament hosted 168 players (84 men's and women's doubles teams) and was held April 7-9 at BREC's Highland Park Tennis Center in Baton Rouge.
The funds were raised from a variety of sources, including corporate and business donations, tournament entry fees, a silent auction, the "65 Roses" campaign, and the weekly HPTA Round Robin "tip jar." Thanks to all of the individuals, businesses and organizations that helped us achieve our goal!
Since 2010, the Highland Open fundraising efforts have contributed $174,840 to CFF:
$20,976 (2017)
$24,808 (2016)
$22,363 (2015)
$21,725 (2014)
$19,815 (2013)
$20,653 (2012)
$23,000 (2011)
$21,500 (2010)
Also, since 2010, HPTA has conducted its "65 Roses" campaign before and during the Highland Open tournament to raise funds for the Cystic Fibrosis Foundation. We are very proud to announce that HPTA met its goal in 2017 with 65 Roses sponsored. Here are the Rose tallies since 2010.
2017 – 65 Roses
2016 – 75 Roses
2015 – 80 Roses
2014 – 68 Roses
2013 – 72 Roses
2012 – 80 Roses
2011 – 86 Roses
2010 – 84 Roses
More Tournament Info Below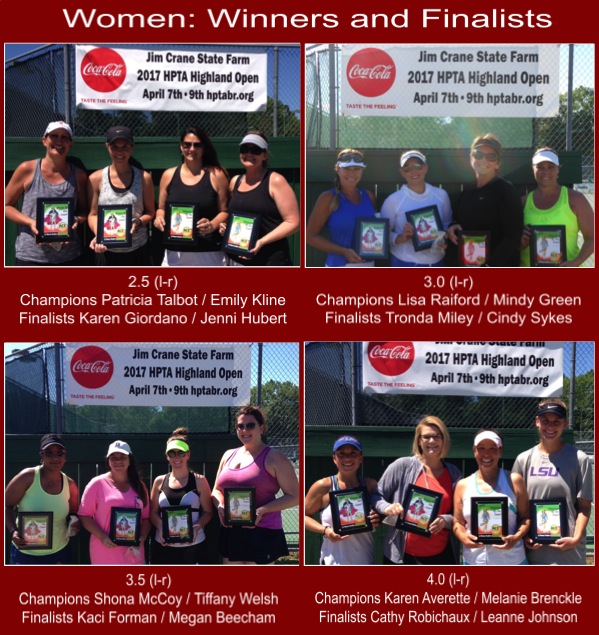 Thanks to our 2017 Sponsors and Donors
Title Sponsor
Jim Crane State Farm
Presenting Sponsor
Highland Park Tennis Association
Gold Sponsors
Cortana Kiwanis Club (Saturday jambalaya lunch)

Pinnacle Exteriors (Chris Brantley, towel sponsor)
Silver Sponsors

Baton Rouge Women's Tennis Association
Bronze Sponsor

Professional Restoration Contractors of Louisiana
Ball Sponsor



CRDN, The Textile Experts
Visor Sponsor

Platinum Title and Settlement Services
Awards Sponsor

Our Little Miss
Pizza Sponsor

Safelite Auto Glass
Pastalaya Sponsor



Iberia Bank
Donors
BREC Tennis Department, Blue Bayou Water Park, Brew-Bacher's Grill, Calandro's Supermarket, Calloway's Health and Fitness, Capital City Produce, Coca-Cola Bottling Co., Community Coffee, Creative Cam Photo Booth, DEMCO, Downtown Kiwanis Club, Leslie Falgoust, Sandra Harshbarger, House of Jamba, Izzo's Illegal Burrito, Kendra Scott, Debbie Klotzbach, KR Martin, Krispy Kreme Donuts, Lamps and Lighting, Rosalyn Landes, Joycelyn LeBlanc, LSU Athletics, Merci Beaucoup, New York Bagels, Quantum Express, Raising Cane's Chicken Fingers, Renaissance Gallery, Sanctuary Home and Gifts, Debbie Schott, TJ Ribs, Whole Foods Market, Wildtree – Lisa Thomas, Shauna and Kris Walley, and Mike and Debbie Zaunbrecher (with Branden LeBlanc).
2017 Rose Sponsorships

Thanks to our 2017 Rose Sponsors so far, as we seek to exceed our "65 Roses" goal for the eighth year in a row. Every dollar of every $100 Rose goes directly to the Cystic Fibrosis Foundation to help find a cure for this terrible disease. Since 2010, the Highland Open's fundraising efforts have contributed $153,864 to CFF, and $54,400 of those funds have come from Rose sponsorships.
1. In memory of Jo Jabour (2016 Core HOTT team)
2. A Christmas Rose (by Fred Aldrich)
3. Wendy Parrish
4. Otto and Sandra Harshbarger "Ace for the Cure!"
5. HPTA Round Robin tip jar #1
6-10. "In Honor of Claire Booth" (by Hunter and Emily Greene)
11. HPTA Round Robin tip jar #2
12. Ned and Debbie Davenport
13. Bill and Lisa Sanner
14. HPTA Super Bowl football board
15. Father Jerry Martin
16. In honor of Jamie Crane & in memory of Mandy Crane (by Linda Crane)
17. In honor of Jamie Crane (by Maureen Dunham)
18. Bonnie & Greg Wilson (Wilson & Wilson Attorneys)
19. Don Shedd
20. In honor of George Foster Klein's 2nd birthday (by Joni Orgeron)
21. Debbie Klotzbach
22. In honor of my mother, Mary (by Chris Tate)
23. Dimitar Jordanov
24. HPTA Round Robin tip jar #3
25. From the family and friends @ Ronnie's Boudin & Cracklin'
Baton Rouge and Hammond (by Brad Dupont)
26. HPTA Round Robin tip jar #4
27. Mrinal Desai
28. Robert Wu
29. Randy Ligh
30. In memory of Alan Peterson (by Anita Peterson)
31. 55+ Young At Heart Ladies Tennis Team & HPTA Tip Jar
32. The Daigle Duo, Alena Prejean & Julienne Waguespack
33. Galen Vicknair
34. Sybil Rhodes
35. 55+ Young At Heart Ladies Tennis Team
36. Melanie and Courtney Acosta
37. In memory of Ron McMorris (by Sheri and Troy Goings)
38. Allen Lightfoot
39. Kara Hebert
40. In honor of Brooke Wolcott (by Teri Bergeron)
41. For Mandy Crane (by Linda Crane)
42. For Jamie Crane (by Linda Crane)
43 – 59. Highland Open auction
60. In memory of Jo and Alex Jabour (by their son, Rusty)
61. Amber and Greg Owens
62. Lorri Parks Mayhall #1
63. Lorri Parks Mayhall #2
64. Jim Crane State Farm
65. In memory of Joycelyn LeBlanc's mother, Murly Bouquet Delaune
(by HPTA Officers)