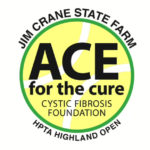 As we were rained out today, in order to get all matches in, we will have to play pro sets for all round robin matches except for those few unplayed first round matches not played Friday.
We have worked very hard to accommodate all players for a pleasant and enjoyable day.
So do come and enjoy a great day of tennis and don't forget to go inside the Tennis Center and BID, BID, BID on our many auction items.
Revised schedule and draw are now posted on the web: Click here
If in doubt about anything, please call us— do not assume. The phone number at Highland Park Center is 766-0247 or contact us at 921-9411 or at 772-6512.
On January 1, we launched our 65 Roses campaign as part of the Highland Open's fundraising efforts. We encourage you to become a Rose sponsor this year. Every dollar of your contribution goes directly to help children and families who are battling cystic fibrosis.