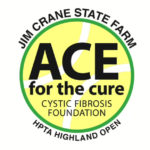 April 13-15, 2018
BREC's Highland Park Tennis Center, Baton Rouge, La.
Click here to register now!
Three matches guaranteed, round-robin format
2018 Jim Crane State Farm Highland Open
Benefits the Cystic Fibrosis Foundation 

Thanks to our 2018 Rose Sponsors listed below so far, as we seek to exceed our "65 Roses" goal for the ninth year in a row. Every dollar of every $100 Rose goes directly to the Cystic Fibrosis Foundation to help find a cure for this terrible disease. Since 2010, the Highland Open's fundraising efforts have contributed $153,864 to CFF, and $54,400 of those funds have come from Rose sponsorships.
1. Wendy Parrish
2. HPTA Citrus Bowl Football Board
3. Father Jerry Martin
4. Lisa and Bill Sanner in memory of Alexandra Babock
5. Don Shedd
6. HPTA Round Robin tip jar
7. 

Hunter and Emily Green in honor of Claire B.


8.

Hunter and Emily Green in honor of Claire B.


9.

Hunter and Emily Green in honor of Claire B.


10.

Hunter and Emily Green in honor of Claire B.


11.

Hunter and Emily Green in honor of Claire B.


12. Galen Vicknair
13. Young at Heart Ladies Tennis Team
14.  Otto and Sandra Harshbarger in memory of Micah Johnson
15.  Ned and Debbie Davenport
16.  Fred Aldrich
17.  Brad and Julia Dupont
18.  Andy Bui
Donors
Barbara Bahlinger
Blue Bayou Water Park
Blue Bell Creameries
Brett Landry
Capital City Produce
Catholic High School
Coca Cola Bottling Company
Community Coffee
Door Decor
Galen Vicknair
Guaranteed Restoration Services
Izzo's Illegal Burrito
Kendra Scott
Merci Beacoup
Michael Thompson
Raising Cane's
Safelite AutoGlass
Otto and Sandra Harshbarger
Zapp's  Potato Chips
Sponsors
Pizza Sponsor (IBERIA BANK)
Bronze Sponsor (Baton Rouge Women's Tennis Association)
Sunday Lunch Sponsor (CRDN Textile Experts)
Saturday Dinner Sponsor (Kiwanis Club of Baton Rouge)
Player Bag Sponsor (Jim Crane – State Farm)