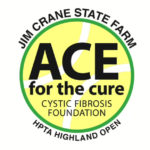 $18,209 Raised To Help Fight Cystic Fibrosis
Thank you!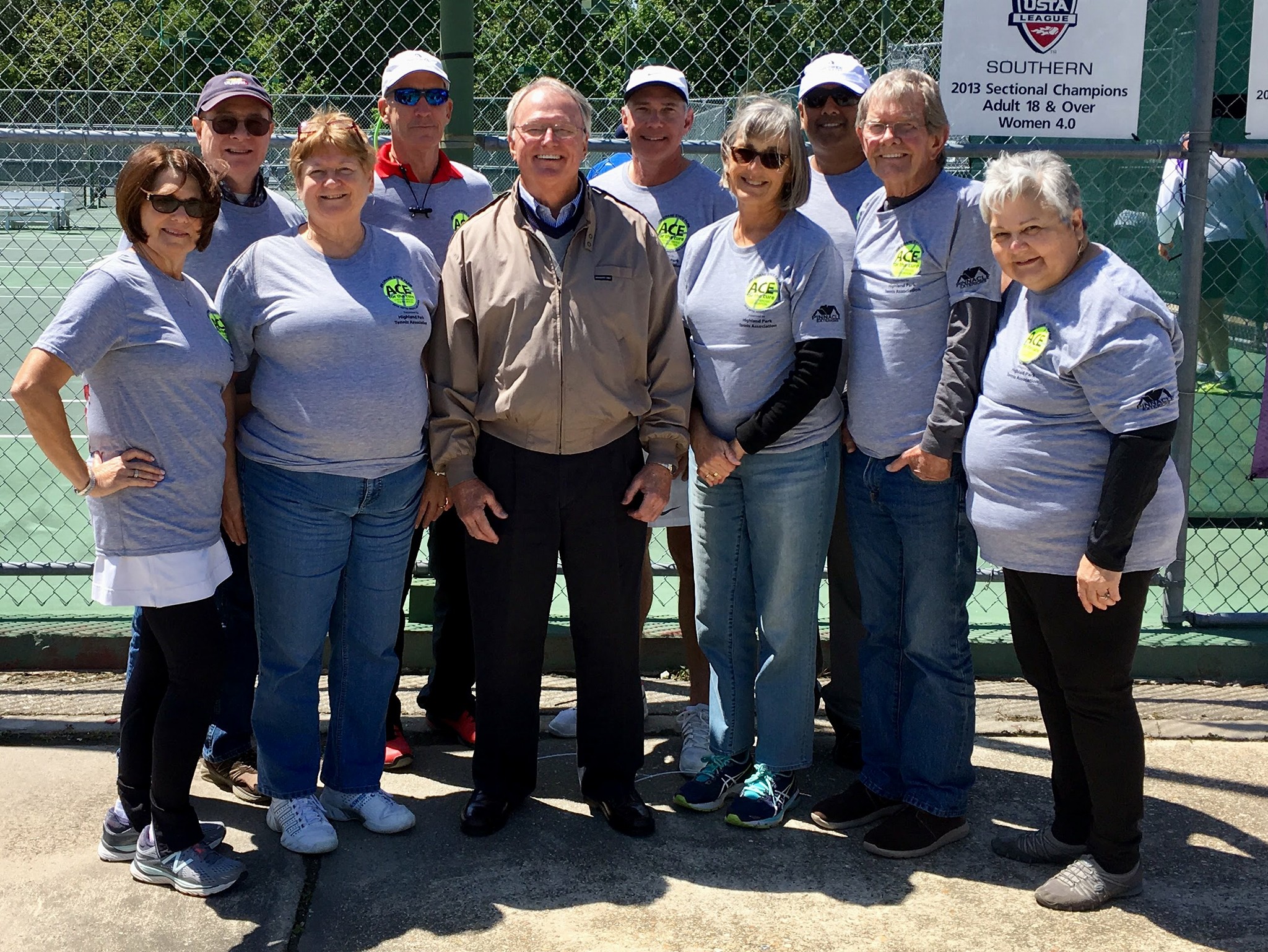 2018 HOTT Tournament Committee
(l-r) Mike Fournet, Gary Mollere, HPTA President Galen Vicknair, HPTA Secretary Mrinal Desai, Highland Open Tennis Tournament Committee Member Sandra Harshbarger, Immediate Past President Debbie Klotzbach, Tournament Title Sponsor Jim Crane (State Farm), Tournament Director Lisa Sanner, Michael Doyle, and Tournament Desk Coordinator Joycelyn LeBlanc (missing from picture – HPTA Vice Pres. Glen Harvey, HPTA Treasurer Wendy Parrish, and Executive Director Louisiana CFF Chapter Erin Achberger).
The Highland Park Tennis Association and its Highland Open Tournament Team are proud to announce that $18,209 was raised for the Cystic Fibrosis Foundation through the 2018 Jim Crane State Farm Highland Open and its related fundraising efforts.
The tournament consisting of men's and women's doubles teams was held April 13-15 at BREC's Highland Park Tennis Center in Baton Rouge.
The funds were raised from a variety of sources, including corporate and business donations, tournament entry fees, a silent auction, the "65 Roses" campaign, and the weekly HPTA Round Robin "tip jar." Thanks to all of the individuals, businesses and organizations that helped us achieve our goal!
Since 2010, the Highland Open fundraising efforts have contributed $196,510 to CFF:
$18,209 (2018)
$20,976 (2017)
$24,808 (2016)
$22,363 (2015)
$21,725 (2014)
$19,815 (2013)
$20,653 (2012)
$23,000 (2011)
$21,500 (2010)
Also, since 2010, HPTA has conducted its "65 Roses" campaign before and during the Highland Open tournament to raise funds for the Cystic Fibrosis Foundation.  Here are the Rose tallies since 2010.
2018 – 41 Roses
2017 – 65 Roses
2016 – 75 Roses
2015 – 80 Roses
2014 – 68 Roses
2013 – 72 Roses
2012 – 80 Roses
2011 – 86 Roses
2010 – 84 Roses
Thanks to our 2018 Rose Sponsors listed below so far:
1. Wendy Parrish
2. HPTA Citrus Bowl Football Board
3. Father Jerry Martin
4. Lisa and Bill Sanner in memory of Alexandra Babock
5. Don Shedd
6. HPTA Round Robin tip jar
7.  Hunter and Emily Green in honor of Claire B.
8. Hunter and Emily Green in honor of Claire B.
9. Hunter and Emily Green in honor of Claire B.
10. Hunter and Emily Green in honor of Claire B.
11. Hunter and Emily Green in honor of Claire B.
12. Galen Vicknair
13. Young at Heart Ladies Tennis Team
14.  Otto and Sandra Harshbarger in memory of Micah Johnson
15.  Ned and Debbie Davenport
16.  Fred Aldrich
17.  Brad and Julia Dupont
18.  Andy Bui
19.  Sheri and Troy Goings
20.  Debbie Klotzbach – The Klotzbachs' Good Friday
21.  Kyle and Kathleen Crane
22.  Courtney and Melanie Acosta
23.  Chris Tate in memory of Nola Bouillon
24.  Teri Bergeron in honor of Brook Wolcott
25 – 41.  Highland Open Auction (17 Roses!)

Donors
Barbara Bahlinger
Baton Rouge Succulent Company
Bienville Frame Shop
Blue Bayou Water Park
Blue Bell Creameries
BREC Tennis Department
Brett Landry
Capital City Produce
Catholic High School
Coca Cola Bottling Company
Community Coffee
Debbie Klotzbach
Debbie Rabalais
Door Decor
Galen Vicknair
Genevieve Moss
Gladys Runnels
Guaranteed Restoration Services
Izzo's Illegal Burrito
Jim Crane State Farm
Joycelyn LeBlanc
Kathryn Martin
Kendra Scott
Lamps and Lighting
Lisa Thomas, Wildtree
LSU Athletics
Merci Beacoup
Michael Thompson
Monica Wood
New York Bagels
Orchid Nail Salon & Spa
Quantum Express
Raising Cane's
Rebecca Dugally
Rhondapalooza
Rhonda Searcy
Ronnie's Boudin
Safelite AutoGlass
The Sanctuary
Otto and Sandra Harshbarger
Varsity Sports
Whole Foods Market
Zapp's  Potato Chips
Sponsors
Pizza Sponsor (IBERIA BANK)
Bronze Sponsor (Baton Rouge Women's Tennis Association)
Sunday Lunch Sponsor (Mike and Debbie Zaunbrecher)
Saturday Dinner Sponsor (Kiwanis Club of Baton Rouge)
Player Bag Sponsor (Jim Crane – State Farm)
Shirt Sponsor (Pinnacle Exteriors)
Hat Sponsor (Assurance Financial)
Saturday Lunch Sponsor (Cortana Kiwanis Club)
Bronze Sponsor (Rosalyn Landes)
Bronze Sponsor (Professional Restoration Contractors of Louisiana, LLC)
Ball Sponsor (CRDN Textile Experts)